Savory Crepes with Foraged Filling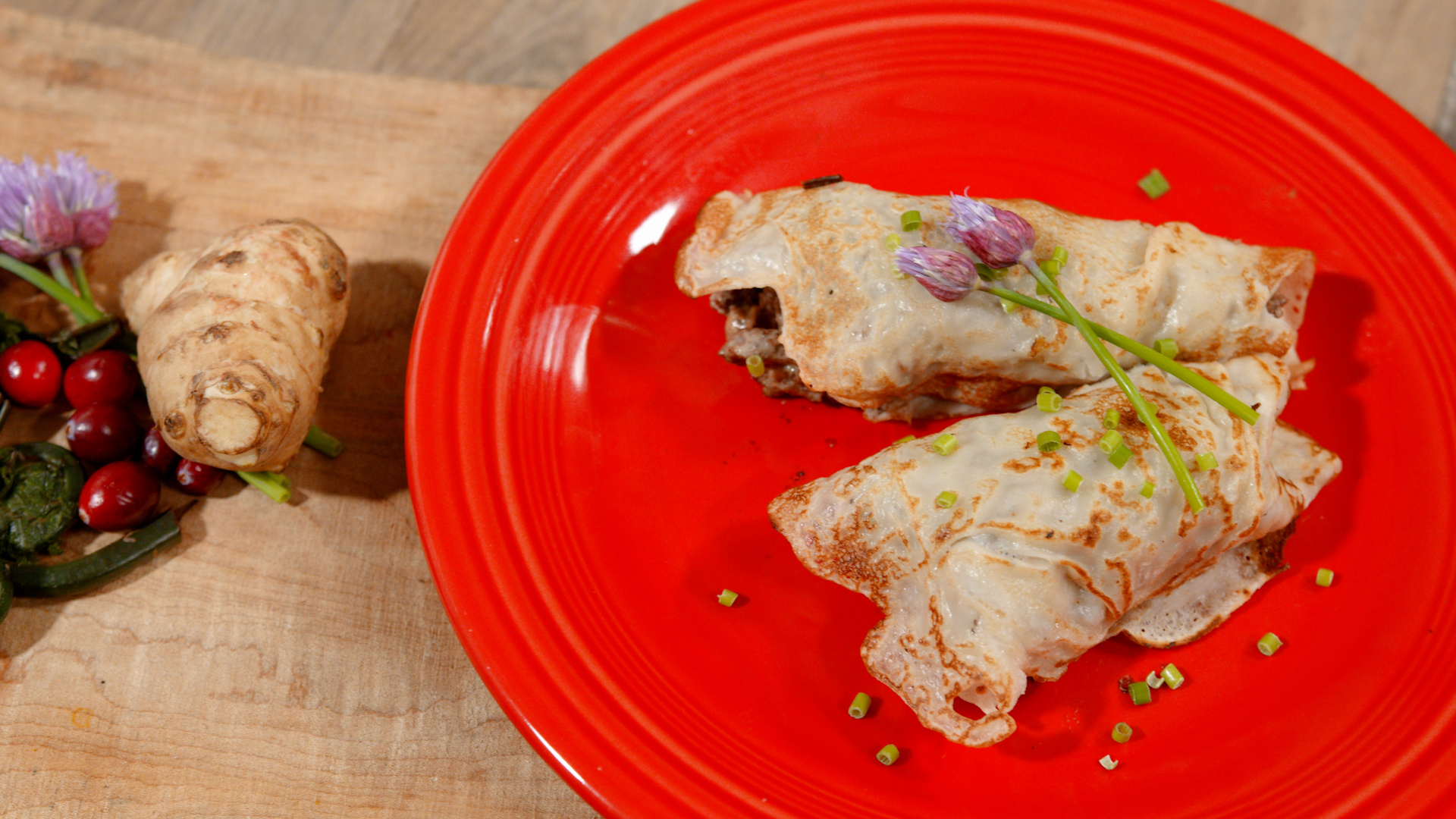 Crêpes
Filling and Topping
Crêpes

1.Prep the crêpe batter by combining the water, vegetable oil, milk, flour, 1⁄4 tsp garlic powder, 1⁄4 tsp salt, and 1⁄4 tsp pepper in a bowl and whisk vigorously until mixture is smooth and bubbles begin to form on the surface of the batter. (You can also use a blender or electric hand mixer, for this step, blending for about 30 seconds.)
2.Allow batter to rest at room temperature for 30 minutes to 1 hour (or store refrigerated in an airtight container overnight, allowing time to bring to room temperature and whisk before using.)
3.After the crêpe batter has rested, heat a large non-stick frying pan over medium heat. Lightly oil or butter pan before adding 1⁄4 cup of batter at the center of the pan. Immediately tilt/twirl the pan in a circular motion so the batter covers the entire bottom of the pan.
4.Cook crêpe until the underside is golden brown, about 1-2 minutes, then flip. Cook until the other side is golden brown, about 1 minute.
5.Set aside cooked crêpe. Repeat the process until all the crêpe batter has been cooked. Keep crêpes warm until serving.

Filling

1. Begin preparing the filling by peeling and chopping sunchokes into 1⁄4 inch thick slices.
2.Warm 1 tbsp vegetable oil in frying pan over medium heat. Sauté sunchokes until they begin to brown.
3.Add fiddleheads and season with salt and pepper. Fiddleheads will begin to turn light green as they fully cook.
4.Add a handful of whole cranberries, stirring occasionally until the cranberries begin to burst.
5.If using mushroom medley, add 1⁄2 teaspoon more of oil to the middle of the pan. Season with salt and pepper.
6.Continue to cook the vegetables until they are cooked all the way through. Transfer to a bowl and set aside.
7.Form ground moose into a patty. Return the pan to the heat and sear the patty on one side until brown and crispy, then flip to cook on the other side. Once both sides have been seared, break up the patty and continue to cook the meat.
8.Season with salt and pepper to taste, and cook the meat until cooked through and no pink is visible.
9.Add the cooked vegetables back into the pan with the meat. Stir to incorporate.
10.Pour 1⁄2 a can of cream of mushroom soup into the mixture in the pan. Stir to incorporate. Continue to cook until the cream of mushroom soup is fully heated and blended with the other filling ingredients. Remove pan from heat.

Plating

Divide the filling between the cooked crêpes. Roll or fold crêpes, and garnish as desired with chopped chives and chive flowers. Serve warm.
Note
*Any type of milk or milk alternative
may be substituted. If using instant, nonfat dry milk, use 2 Tbsp mixed with 1⁄2 cup water
**Use Beef, Ground, or Bison, Ground if moose meat is unavailable
Crepes, Fiddleheads, Indigenous